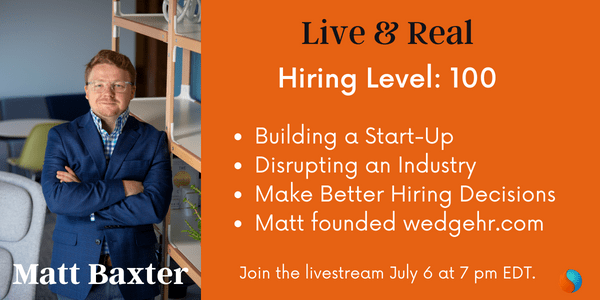 Live & Real – Rule of 100 with Matt Baxter of WedgeHR
The Rule of 100 is all about checkpoints.
Want to make a great first impression? Think about the first 100 milliseconds. 
Need to make sure your start up business is getting traction? Focus on what you NEED to do in the next 100 minutes, 100 hours and build a plan for the next 100 weeks…
Matt Baxter has been building businesses since he was 15 and started a lawn service that grew to 7 employees and was sold when he was a sophomore in college.
He's built a few other companies since then and is currently working on his award winning start up that is disrupting the hiring process.
You'll learn how Matt uses the rule of 100 to wow his hiring clients and to help those looking for work.
This will be a great conversation, with a very cool cat, that you won't want to miss.
Join us on July 6 at 7 p.m. EDT for this live broadcast.