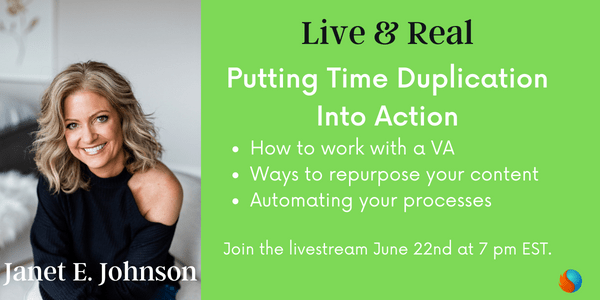 Live & Real: Time Duplication with guest – Janet E. Johnson
Scotty says: if there's one thing ALL successful business owners know: it's time duplication.
Time duplication can look like a lot of things, the three we'll hit hard on today Janet does effortlessly:
Managing outsourced resources to get more done
Repurposing content to save time and effort
Automating the most redundant tasks
Janet E. Johnson is a META marketing maven to the highest degree. She's forgotten more about running digital campaigns than most people will ever know.  She uses this talent to help thought leaders and select companies convert more opportunities.
She's so good at it that she started sharing her secrets in her own private mastermind group too. Gotta love earning recurring revenue while others sleep.
Terry Bean has had the special honor of being her podcast partner since 2015. They've recorded over 180 shows together…but this one will be different. For the first time, she will be in the guest seat.
Join Janet E. Johnson on Live & Real at 7 p.m. EDT on June 22 to learn all about working smarter, not harder.