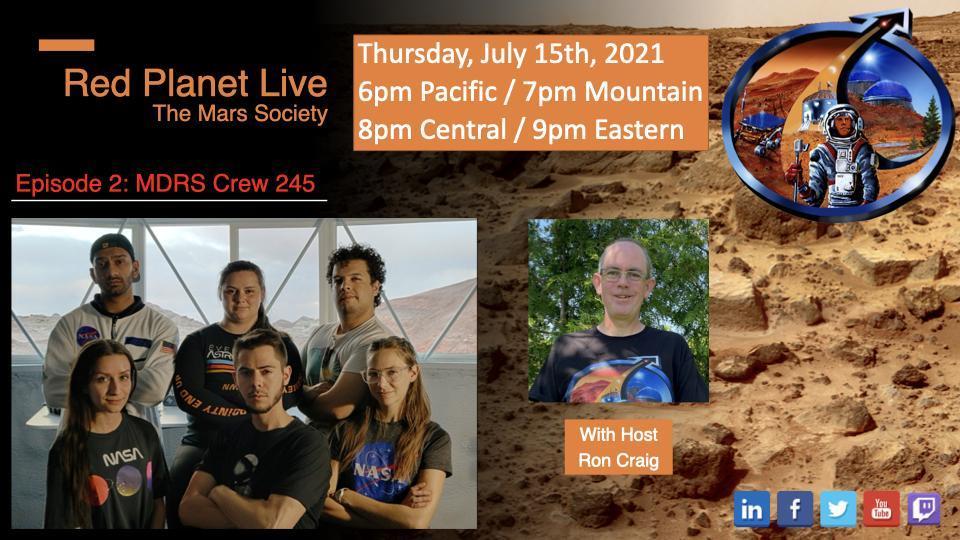 Red Planet Live – Episode 2 – MDRS Crew 245!
Red Planet Live airs tonight, July 15th at 6pm Pacific / 9pm Eastern!
Join me as I interview the Analog Astronauts of Crew 245, who have recently completed their mission at the Mars Desert Research Station in Utah.
MDRS is an Analog training facility, owned and operated by The Mars Society; which is a world renowned habitat that many aspiring astronauts have called home for many years!
What is like to train to live and work on another planet? Well, to hear the answer to this intriguing question you'll just have to tune in tonight?
This is a LIVE show and will be streamed on 5 platforms. I will include the locations in the comments below. Click those remind buttons so you don't miss a thing. If you can't make it live however, no worries, the recordings will be available afterwards too.
You may also find us on Twitter and those who follow TMS on Twitter will be alerted to the show when it starts this evening.
Do you have any questions for the crew? Ask them in the comments below.
See you all tonight!